Itala was created in 2016 by Lisa Parini.
Our mission is to provide Italian courses tailored to students who need to learn to communicate in the shortest time possible.

To speak a language means more than simply knowing the grammar, which is important, but that's not all. The important aspect is being able to apply it in real life situations. Forget english! You will be able to talk and talk and talk in italian with more confidence.
We use a communicative method approach which is based around learning a language through having real-life conversations. Our main goal is to have students feel confident with listening comprehension skills and with speaking Italian from the first day of class.
Our groups are small to optimize the time available for each learner to facilitate group work.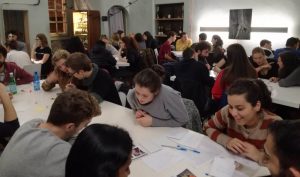 If you are looking to practice Italian outside of class,  join us on Sundays, starting from October 2023, at a local bar where you can speak with native speakers.
LEVELS
A1.1 – A1.2 – A1.3 – A2.1 – A2.2 – A2.3 

You are invited to participate in the Italian Conversation club where, together with your teachers, you will find out which level is most suitable for you.